Travel Log: Pitman On Tour
How has the Career Testing tour been progressing in the UK?  Follow the journey via our live blog updates...
17.9.13 - Day 12: Will Birmingham Take the Bull By its Horns?
We set up our Pit-stops on Birmingham's High Street, just next to the Bullring Shopping centre, ready for another day of Career Testing.
We were very pleasantly greeted with a multitude of eager faces, happy to try our new free app 'Career NCT' and book some free career and CV advice. It was really great to see so many people inspired to drive their futures forward. Looking forward to another busy day tomorrow!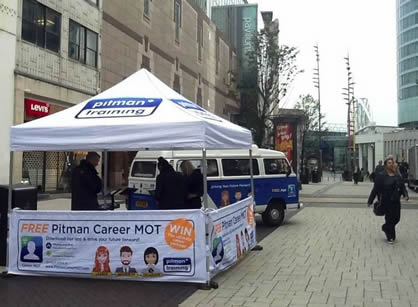 17.9.13 - Day 11: The Bridge to a New Career
We spent Day 11 travelling from Cardiff to our next Pit-Stop: Birmingham… ready to bridge the gaps in careers with our new, innovative, free app: Career NCT.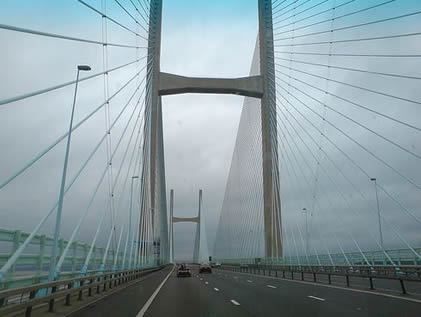 14.9.13 - Day 10: Is Cardiff a City of Executives?
We've enjoyed another busy day at our Cardiff Pit-stop on Queen Street… so far we've gathered some quite remarkable stats which would suggest that Cardiff could be a City home to many an ENTJ – Extroverted  iNtuitive Thinking Judging profile: which could lead to career paths including an MD, Politician, Marketing Manager or Entrepreneur amongst many others.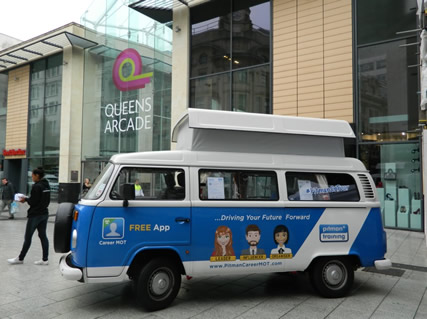 14.9.13 - Day 9: Passport to Career Success – A Testimonial by Jean
Yesterday we met Jean in Cardiff… Jean is 82, and studied Pitman Shorthand many years ago… she was really pleased to see we're still Training the Nation, and commented that in her mind, Pitman Training is still the passport to career success!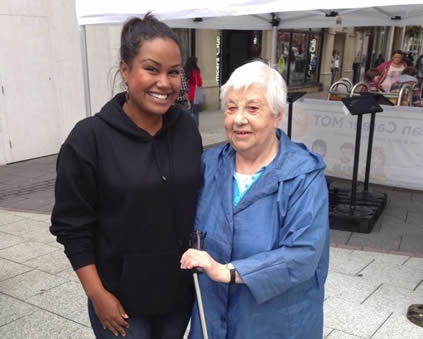 See what Jean had to say about Pitman Training here: Jean Cardiff Video
13.9.13 - Day 8: Revamped and Reunited… Campervan makes headway to Cardiff
We were very excited to be re-united with our revamped Campervan, after a short time away having a diagnostic check-up of his own!
We hit the road, looking forward to our next Pit-stop on Cardiff's Queen Street.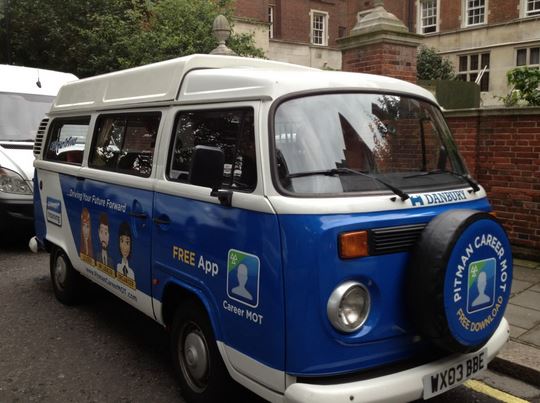 12.9.13 - Day 7: Victoria's Avatars Shape the Face of London's Workforce
Our team of Career Mechanics were overwhelmed by the response from commuters at London's Victoria Rail Station – by far the biggest footfall of our tour to-date!
From results we've seen so far, it would appear that London is home to a healthy number of INTP  profiles – the Thinkers and Engineers… we'll run a detailed analysis of national and regional results once we've finished up on the road!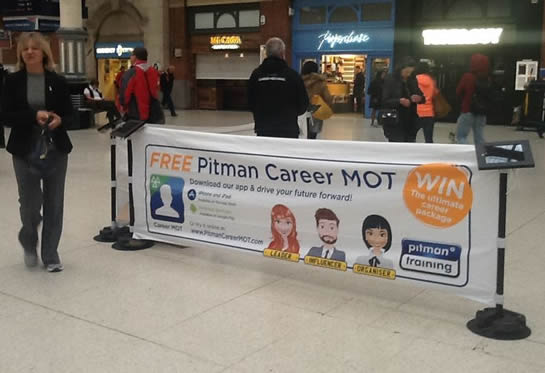 10.9.13 - Day 6: One New Change – Can You Spot The Difference?


They say life is all about change, and that couldn't be truer for us! Having had a temporary malfunction with our campervan, we pulled up at our 3rd Pit-stop in a replacement vehicle… making sure we kept to our word to drive futures forward.
Change is often not embraced in a positive manner, taking people out of their comfort zones. Yet, the reality is most things change or evolve with time. Small changes to your career in the form of progression, or expansion into new areas can be a positive way to refresh your passion for your role.
We spent the day chatting to City workers about their roles, and running profiles through our Career NCT app – we were pleased to see so many surprised faces as the app unravelled the characteristics of their personalities.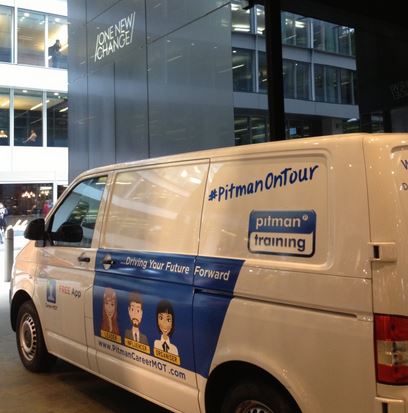 One New Change
We're looking forward to spending our last day in London at Victoria Station tomorrow… wonder how London will compare with the rest of the countries profile results? Will there be more thinkers and visionaries, or executives and chiefs?… we'll have to wait and see!
9.9.13 - Day 5: #PitmanOnTour Services Commuters at London Waterloo


Having towed our way to London Waterloo, we've spent an great day catching people along their commute to work. With the campervan still in our possession until its repair trip this evening, we were amazed at just how much recognition there is for the Pitman Training brand. Many stopped by to recount experiences with us and obtain some updated information on courses and training we currently offer!
We had a great day chatting to people from all sorts of careers and backgrounds – even a local police officer passed by to give our app a go!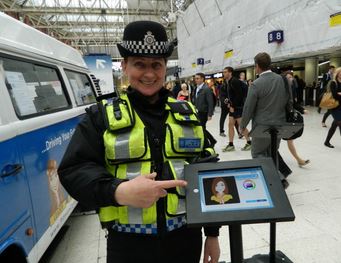 Cop a look at our new app!
We're looking forward to 2 more days in London – with One New change tomorrow, followed by London Victoria. Don't forget to follow us on Twitter @PitmanTraining #PitmanOnTour
9.9.13 - Day 4: We all Break-down sometimes!


After a successful couple of days on the road in Edinburgh, we hit a minor speed-bump in our tour and broke-down, just outside of Morpeth!
This got us thinking… how many times a year we hit minor speed bumps in our careers, and temporarily break-down. Luckily for most of us, this is nothing more than a temporary glitch, a bad day at most. However, shocking recent statistics have shown that at least 27% in employment often or always feel depressed, with 48% of those not in education, employment or training feeling this way.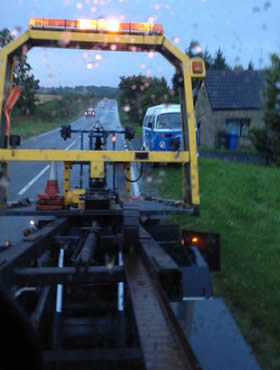 The reality is, much like the temporarily sad fate of our campervan, there is help, motivation and support out there for those that need it, through a combination of advisory sessions, training and employer reviews.
Luckily for us, we managed to tow our way to the next pit-stop, with a bit of perseverance and determination! We'll be putting our camper in for repair and have a temporary replacement until he's fixed, but will make sure we make it to all of our Pit-stops, one way or another!
5.9.13 - Day 3: Is Edinburgh a City for Dreamers & Idealists?


We spent day 3 of #PitmanOnTour back on Castle Street, Edinburgh with a flurry of shoppers, and local workers, debating career paths and progression.
Interestingly, we are already seeing a regional trend in profile characteristics, with a majority pull towards 'INFP' – the result for Dreamers and Idealists. Not as fluffy as the title may suggest, this category suits those who would like to/work in roles such as: teacher, editor, writer, counsellor, report or musician, amongst many others.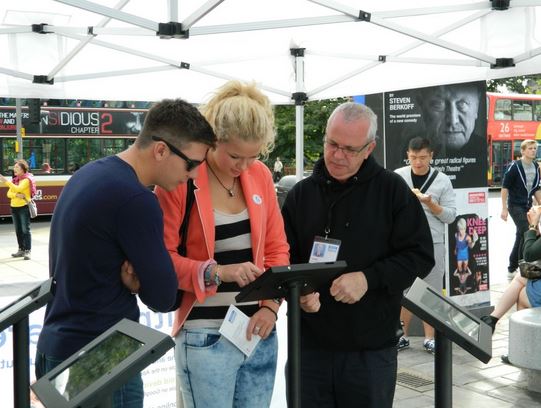 Career Mechanic Yowie takes shoppers through Career NCT
We're looking forward to seeing the outcomes in other regions over the duration of the campaign, and hope we help many make some big career steps and decisions to drive their future forward. We'll be back on the road again tomorrow :)
4.9.13 - A Van with a View – 1st Pit-Stop brakes at the foot of the Castle



Local shoppers, commuters and workers alike have spent today trialling our new free app at the first Pitman Training Career NCT Pit-stop based on Castle Street, Edinburgh.
Many were surprised at just how close our diagnostic profiling station had matched them not just to their characteristics, but their career paths or aspirational goals!
We managed to point a healthy number of onlookers in the direction of their next attainable career move, which left us with a skip in our step.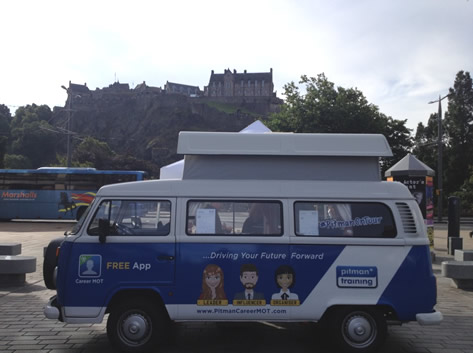 A Van with a View – Edinburgh Castle
We'll be back to conduct more diagnostic profiling tomorrow morning (5th September) – if you missed us today, be sure to pass by!
3.9.13 - Day 1: Signposting Careers, Destination Edinburgh


Setting off from our HQ office in Wetherby, we enjoyed a scenic route up the A1, until we made it to our first Pit-stop location – Edinburgh.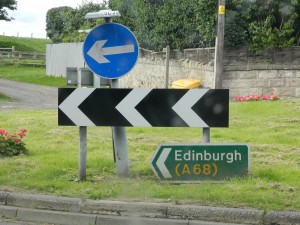 Edinburgh this way!
We'll be setting up bright and early on Castle Street tomorrow morning. Looking forward to meeting the Scottish masses and help to direct career paths and futures with the launch of our new, free app Career NCT!
8.8.13 - The Countdown has begun!


The Pitman Team have hit the road to make some exciting pit-stops… we're all excited! You can join in too by downloading the FREE Career NCT App!